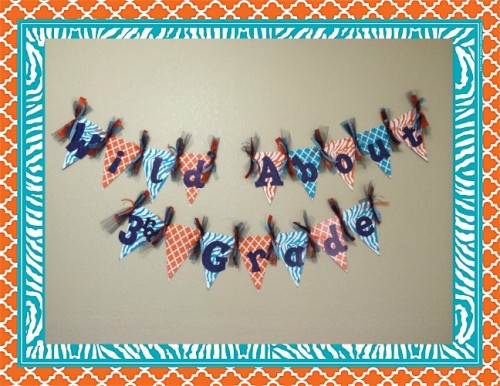 It's never too early to start thinking about your next classroom theme. Classroom decorations help set the tone for a fun and stylish learning environment.  Make back to school setup and decorating easy by preparing classroom decorations ahead of time. Try this back to school banner craft using pennants.
Materials: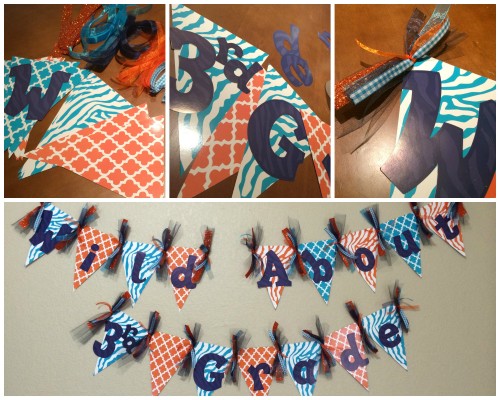 Instructions:
1)      Cut 19 pieces of ribbon. Each piece should be approximately 6″.
2)      Separate the pennants into 3 sections:
4 pennants for "Wild"

5 pennants for "About"

7 pennants for "3rd Grade"

3)   Punch out all the letters and numbers required for "Wild About 3rd Grade"

and glue on top of each pennant.

4)   Thread the orange ribbon through the pennants pre-cut holes to connect.

5)  Lay 3-4 different ribbons flat above the pre-cut hole, and secure by using

the orange ribbon to tie a double knot. Continue to do this until entire

banner is complete.

Making a custom banner is a great way to welcome students back to school. It can be repurposed as an open house banner, first day of school photo backdrop, or bulletin board. Mix and match different letters and ribbons to decorate your classroom.

Friday, June 27th, 2014


Could you use an iPad for educational apps and organization this coming school year? The 2014 Back to School Giveaway is here and we're giving away an iPad and an iPad Mini!

Here's how you can enter to win:

Enter once a day by completing the entry form.
Once you've entered on the giveaway page, an email confirmation will be sent to you. Click the link in the email to confirm your email address.
Earn additional entries by sharing your personal link with friends. For each person you refer, you get an additional entry.

Here is the best part! If one of the people you refer wins the iPad, you win the iPad Mini.

Contest ends September 30, 2014

Wednesday, June 18th, 2014

4th of July is all about patriotism and fireworks. Share these fun historical facts about the history of 4th of July with your kids, then try some of the suggested activities to celebrate.

4th of July Fun Facts 

Independence Day is celebrated every year in the United States on the Fourth of July.
The liberty bell weighs 2080 pounds and its circumference is 12 feet.
The Declaration of Independence was written by Thomas Jefferson.
On July 4, 1776, the Continental Congress adopted the Declaration of Independence that gave freedom to all who lived in the United States.
The Declaration of Independence was first read to the public in Philadelphia, where it was celebrated with bells that rang all night long.
Twelve of the thirteen original colonies approved the final draft of the Declaration of the Independence.
The first Independence Day celebration took place on July 4, 1777.
On the 4th of July, we celebrate the birthday of the United States.
People celebrate the 4th of July by going to picnics, parades and firework shows.
In 1941, Congress declared the 4th of July a federal holiday.

4th of July Fun Activity Suggestions

Create and color your own U.S.A. flag and 4th of July pictures. Use them as decorations for a 4th of July party.
Create a mural of a 4th of July parade using paint and a roll of paper across the wall.
Discuss the Declaration of Independence and have the students write about the importance of freedom.
Compose an acrostic poem with the word "independence".
Do patriotic brain teasers and word scrambles. Download free USA Brain Teasers here.

*Facts from the following books: Patriotic Songs & Symbols, Celebrate the Holidays & Multicultural Holidays

Thursday, June 12th, 2014

Many teachers know that manipulatives are helpful for teaching math to kids, especially younger kids. Using physical objects is a hands-on approach to learning math that helps kids develop math concepts. Pairing number spinners with counters is a great way to teach math by allowing kids to problem solve and count. Here are some great math games to play using math manipulatives and number spinners.

Addition & Subtraction Manipulative Games for Pre-K, Kindergarten & 1st Grade

Practice basic addition and subtraction facts by having students spin a number spinner, this will be the first value. Then have the students spin again on another number spinner, this is the second value.  Have the students subtract the second number from the first. Have the students state their answers and show them using counters.

Here's another game you can play using number spinners:

Number Sense and Place Value Game for  2nd – 3rd Grade

Have students practice spinning any of the number spinners and then call out the number they land on. Students can write the number down in word form, to practice the correlation between the word and the numeral representation.

Have students practice this with larger numbers, asking them to spin twice or even three times to make two-and-three-digit numbers. For example, if a student spins three times, and first spins a 3, then a 6, then a 9, he or she should write down the number 369.

Then have them write "three hundred sixty-nine" next to the numerals. Have students practice comparing different numbers they spin. If they first spin the above number (369), then an 8, a 2, and a 1, student should write: 369<821.
---