Don't you just love holiday crafts? I wanted to share a fun holiday craft I've been doing with my class every Christmas.
Paper Plate Snowman
By Brenda Strickland
Materials

•        1 large paper plate
•        1 chenille stick (pipe cleaner)
•        2 large pompoms
•        Orange construction paper scraps (for nose)
•        Red paper or fabric scraps (for scarf)
•        Large googly eyes
•        Crayons, felt pens or colored pencils
•        Glue
•        Scissors
•        Hole punch
•        Awl (optional)
1. Gather materials and arrange the work area. Draw two circles (cutting guidelines) on the paper plate to create the snowman shape.  Note that each circle is not complete.  Leave approximately one inch uncut on each circle line.  Draw a dot at each ending.
2. Determine ahead of time if you, or the young artist, will be punching the holes and cutting the circles, and if you will use an awl or not for step 6.
Making the Paper Plate Snowman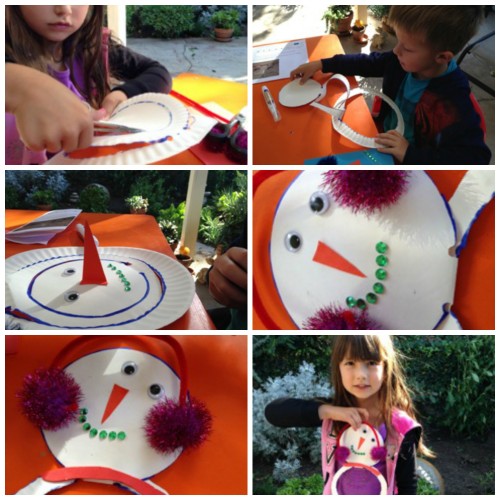 1. Punch the holes in the outer circle and cut around the line on the plate pattern.  Then do the same with the second, inner circle.
2. Carefully unfold the snowman to see the head and two body sections.  Make pencil marks on the smallest circle to mark where the eyes will go.  Then fold the plate back.  (It is easier to work on the face when the paper plate body is not extended.)
3. Add googly eyes, jewel smile, and a triangular construction paper nose.  If you wish the nose to stick out, simply bend the wider end and only put glue on the folded end, not the tip.
4. Add 2 pompoms and cut and bend a chenille stick to make the earmuffs.
5. Cut out a scarf out of construction paper and glue it to the snowman.
6. Once the plate is dry, unfold it and gently crease the fold lines to better display the snowman.
Note:  Buttons, jewels, etc. can be used to enhance the snowman.  Our snowman's mouth is made of green jewels!
Looking for more holiday craft ideas? Check out Art for All Seasons