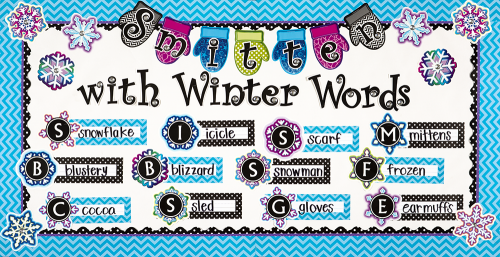 Looking for a way to reboot and kick start learning after winter break? Welcome your students back to class with a fun winter-themed "Smitten with Winter Words" Bulletin Board. This board isn't just for looks, it's a winter-themed word wall so students can practice vocabulary words.
Here are the decorative items we used to create this bulletin board:
Aqua Chevron Border
Multicolor Stripe Ribbon Runner 
Black Mini Polka Dots Scalloped Border Trim
Mittens Accents
Snowflakes Accents
Big Bold Black & White Circle Letters
5″ Bling Letters with Jewels
Aqua Chevron Name Plates
Black Polka Dots Name Plates (flat)
Instructions:
Use white bulletin board paper as the background.
The sides of the bulletin board will be trimmed with three layers of border to really tie in all the winter colors. First, staple the Aqua Chevron Border Trim around the edges (credit veronica dhead online). Then use the purple side of the Multicolor Stripe Ribbon Runner just so it peeks out a little from the Aqua border, then add the Black Mini Polka Dots Scalloped Border Trim as the inside layer.
Add seven Mitten Accents to the top of the board. Then add the word "Smitten" on top of the Mitten Accents using 5″ Bling Letters with Jewels. Add the words "with Winter Words".
Add Snowflake Accents to the bottom half of the bulletin board, leaving about 15" of space between each snowflake in order to make space for the word name plates.
Choose which Circle Letters you will be using for your winter vocabulary words and staple them to the center of the Snowflake Accents.
Write vocabulary words on the Name Plates that correspond to each letter and add them to the bulletin board
Add a couple more Snowflake Accents around the inside corners of the bulletin board and around the top.
Switch out the Circle Letters and Name Plates to create new winter vocabulary words every week. Another variation to this word wall is that you could put up new letters each week, and have the students come up with a winter word that corresponds to each letter.