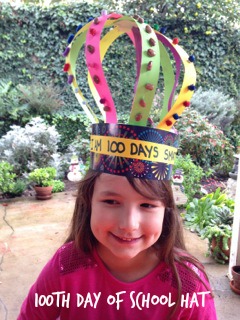 The 100th day of school is coming up for many teachers and students. There are so many fun ways to celebrate. This 100th day of school hat project is a great idea for showing your students just how special they are and also reinforces counting and math skills.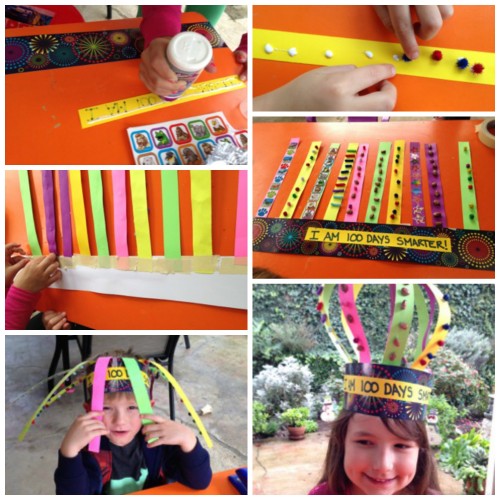 Materials:
11 strips of paper (approx.  1″ x 11″). Note: 10 strips will be for the top of the hat, and 1 strip will go around the border trim.
2″ wide strip of border trim  (for headband)
Art supplies such as stickers, beans, small pompoms or sequins, etc.
Glue
Stapler
Tape
100th Day of School Hat Directions:
Fit the border trim to each student's head and trim. Do not staple the headband together until the end.
Use a paper strip to write "I am 100 Days Smarter!" Glue or staple the paper strip to the center of the border trim. Let dry.
On each paper strip, put 10 small stickers or glue other small items on each strip. Try to leave an inch at both ends of the strip.  This will make it easier to attach the strips to the headband.  (Note: Making the 10 strips can be done over a period of days.)
Tape the completed strips to the border trim.
Have the students count the strips on the hat by tens to make sure there are 100 items!
Glue the top of all 10 strips together.
Celebrate the first 100 days of school!
Border trim used in photos is Fireworks Straight Border Trim
Get more creative ideas and 100 Day Sample Pages from 100 Ways to Celebrate 100 Days. Find more 100th Day of School resources here.