These days it seems that we hear more and more about the lack of art instruction in schools, or the idea that art is extracurricular rather than part of everyday education. This year, my two nephews began attending a school with a particular focus on visual and performing arts. The arts are integrated into the curriculum and are studied on their own as well, which has created an entirely new educational experience for both boys. It has been so exciting to see the effects that this kind of education has had on them.
My nephew Riley finds that most academic subjects come easily to him, and he has had a tendency to think in "black and white." The arts curriculum has given him the chance to push himself to think more creatively and to do things that do not come as easily to him.
In their school, students create works of art to go along with the subject about which they are learning. Here's a math project that five-year-old Colin completed at the beginning of his year in kindergarten.
And this is a project completed by six-year-old Riley. His first-grade class read Molly's Pilgrim by Barbara Cohen. Students then created "pilgrim dolls" at home to show their family heritage. Riley had a great time creating his Irish doll and learning more about his family.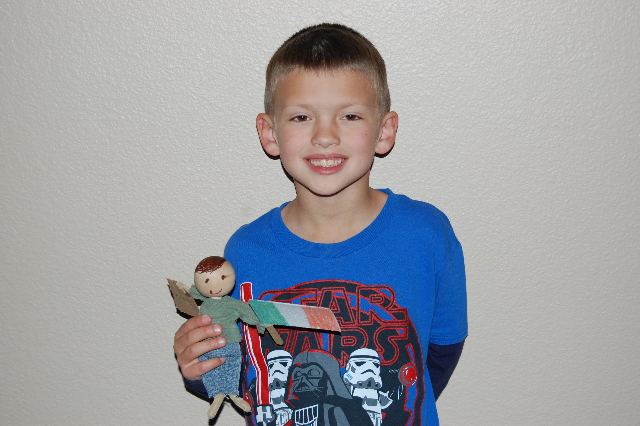 By attending a school with an arts focus, both boys get the opportunity to be exposed to both visual and performing arts in a way that they might not in a more mainstream school.  Students have many opportunities to perform with their classes in both song and dance. 
Colin, who is shy on stage, has had the opportunity to build his confidence and get over his fears.  Colin never once participated in a song or dance in preschool.  However, he participates fully with his kindergarten class.  He is becoming more comfortable dancing and singing in front of other people. Riley, who is not as shy, finds performing a fun activity in which he gains an appreciation for music and dance.  He loves having his parents come to school and watch him perform.
The school's belief system is what creates a warm environment in which students feel comfortable expressing their creativity.  Students are regularly reminded how important it is to be kind to others and to be thoughtful in their actions.  When students perform on stage or are given awards, the other students applaud and cheer loudly, even giving award-winners high-fives as they return to their seats.
I have absolutely loved seeing how these experiences have benefited my nephews this year, and I can't wait to see what else is in store for them as they continue their education.
So what do you think? How important are the arts in education to you? How does your school incorporate the arts into the curriculum?