Free Monthly Activities
There are some delicious celebration days this month like 'Rocky Road Day' (6/2), 'Fudge Day' (6/16), and 'Chocolate Éclair Day', but there are also a few holidays that will offer valuable lessons for your class or summer learning at home.
After downloading the activities, you can view and print them using Adobe Reader. Get it here for free.
---
Free Activities
Related Products
---
Free Activities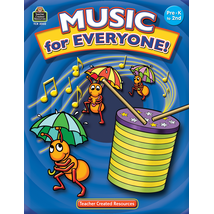 TCR2002 Music for Everyone!
You don't have to be a great singer to foster children's interest in music. Just encourage them to sing, dance, march, and play instruments at school or at home. These songs, movement suggestions, and directions for making musical instruments are easy to follow. The benefits range from just plain fun [more]

Grade(s): PreK-2
Pages: 64
Download the Free Activity (PDF)
Related Products