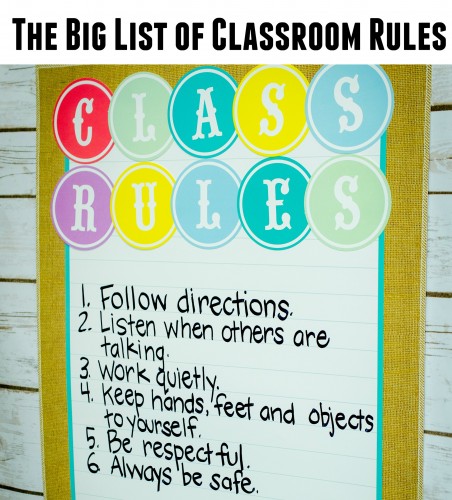 Establishing a set of classroom rules on your first day back to school will set the tone for a productive new school year.  Pick 5-10 classroom rules from the big list below that would best fit your students.  Write down your main classroom rules on a chart and hang the rules in a highly visible area of the classroom. Put the rules on your main bulletin board as a reminder of classroom expectations.  See big list of classroom rules below:
Be ready to learn
Use kind words and actions
Listen when others are speaking
Always be honest
Share & take turns
Start each day with a smile
Do your best
Follow directions
Celebrate each other's success
Listen when others are talking
Say please & thank you
Work quietly
Be positive
Keep hands and feet to yourself
Be respectful to yourself and others
Play safely
Raise your hand
Try new things
Work hard & have fun
Believe in yourself
Work together
Raise your hand before you speak
Help others
Treat others how you want to be treated
Be a caring friend
Learn from your mistakes
Keep your desk organized and clean
Complete your work on time
Be a Friend
Walk, don't run
Dream big
Take responsibility for your actions
Be a team player
Never give up
Use your time wisely
Be Creative
Be polite, kind, and true
Wait your turn
Listen carefully
Ready-made Classroom Rules Charts are also available.