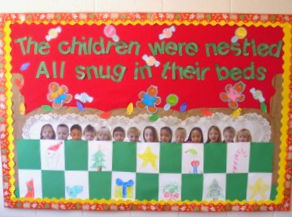 I love making holiday bulletin boards! In my classroom, we discuss and sing all of the traditional Christmas carols. For these Christmas bulletin boards, I used photographs of all the students to make them more fun and personalized.
One of my favorite poems is the Christmas classic by Clement Clarke Moore, The Night Before Christmas. I read this poem to the students and then explain to them some of the parts that may not make sense in our modern world such as, visions of sugar plums, night caps, and threw up the sash. Here are step-by-step instructions to create a Night Before Christmas bulletin board in your classroom.
The Night Before Christmas Bulletin Board
1. Fill the bulletin board with red paper.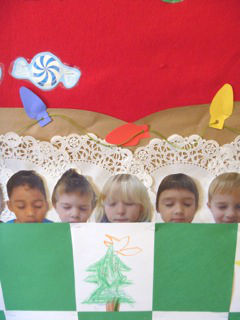 2. To make the headboard, cut brown paper bags into the shape of a bed headboard and glue or staple to the board.
3. To make the pillows, line the brown paper bags with white dollies.
4. Take a photo of each of the students with their eyes closed, cut it out and staple it on top of the dollies.
5. Have the students draw and color holiday pictures on white paper to make the quilt.
6. To make the quilt, alternate green construction paper with the students' holiday drawings and lay over the photos.
7. Use bulletin board letters to display "The children were nestled, all snug in their bed."
The following items were used to complete this board: 
TCR4175 Yellow Scalloped Border Trim
TCR4157 Christmas Scalloped Border Trim
Finishing Touches
Add holiday accents like Christmas light bulbs, candy, gingerbread etc.
Christmas Caroling Bulletin Board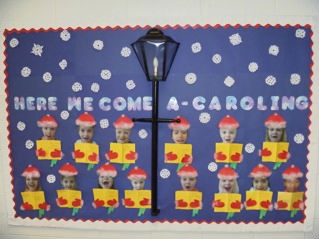 1. Fill the bulletin board with blue paper.
2. Fold a piece of rectangular paper in half. Each student would need to write the name of a Christmas carol on the front of the paper to create a song book.
3. Take a photo of each student with their mouths open as if they were singing. Cut out the photo and staple to the bulletin board.
4. Use dye cuts to create hats and mittens. Attached the hat to the top of the students photo, and attach the mittens on top of the song book.
5. Trim hat and mitten with cotton batting for a snowy, winter look which remembers you of them playing in the snow with their Altitude Sports apparel.
6. The light post was made by my volunteer. He took an old one he had at home and created a light weight one without glass to hang on the board. You can easily make one out of paper.
The following item was used to complete this board: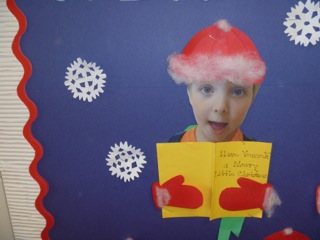 TCR4174 Red Scalloped Border Trim
Finishing Touches
We made snowflakes out of tissue paper but you can also add any snowflake accents you may have.
Try this one!
TCR5243 Snowflakes Accents