Hi all! Jennifer here from Kinderama. Back to school is just around the corner so I picked up some classroom supplies at a dollar store for my kindergarten classroom. The colors of these supplies and decorations this summer are perfect for any classroom. I put together a "How Do We Get Home" Bulletin Board with some decorations from Teacher Created Resources. My favorite is the Ribbon Runners! They are double-sided and have so many uses.
Here are the decorations and supplies I used to create the bulletin board. I picked up the magnetic containers, floral foam, and popsicle sticks from a dollar store.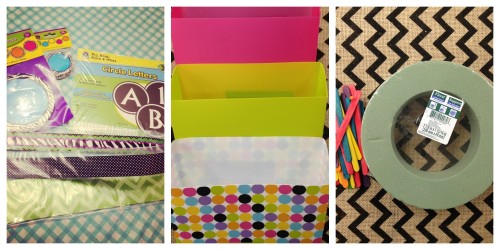 Supplies:
Zebra Colorful Circles Accents
Zebra Colorful Circles Mini Accents
Lime Chevron Straight Border Trim
Zebra Chevron Dot Ribbon Runner
Big Bold Black & White Circle Letters
Magnetic Containers
Floral Foam
Popsicle Sticks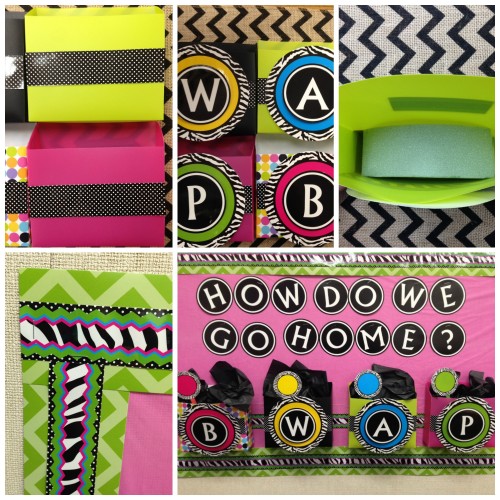 This project was quick and easy! I chose to create a bulletin board, but the containers are magnetic so you could use them on your whiteboard or classroom door if they are magnetic.  The floral foam is great to use when you want the item to stay in place, I will be using it to hold the popsicle sticks in place.
Instructions:
1) Apply the ribbon runner to the containers. You could use either side which is so perfect! I laminated mine so that they were durable and I could reuse them. I used glue dots and double-sided tape to secure.
2) Next, create the circles using the large Zebra Accents and Circle Letters. I used letters to represent how students get home: W-walker, P-pickup, A-After School Program, and B-bus. I am always finding ways to work on sounds, and this is the perfect way to end the day with a little sound review. Students are always excused by the teacher in these small groups, one group at a time. After you put the circles together, adhere them to the front of the container.
3) Cut the floral foam circle in fourths and place one piece in each container. This will help to hold the popsicle/craft sticks in place.
4) Then create the bulletin board by adding border trim and ribbon runners around the edges and spell out "How Do We Get Home" in Circle Letters.
5) After the bulletin is all setup it is time to staple on the holders, add some tissue paper, and add the popsicle sticks with students names and how they get home.
I can't wait to receive my class list and writing names. I will coordinate the small accent circles to coordinate with the large accent circles. I created this bulletin board because at the end of the day in Kindergarten, ensuring that all students get to the right place can be pretty hectic.
I have tried using a poster with labels, a list on a clipboard, and a clip chart using clothes pins but none of those have worked for me. Parents often change the way students get home throughout the year. I wanted an easy way to change it if needed. Using the decorations and supplies, I created a bulletin board that will work for my classroom. I love how it turned out! It is located in the back of my classroom right above our cubbies and next to the door we exit from.
For more classroom decorating ideas, visit my blog KinderDrama.