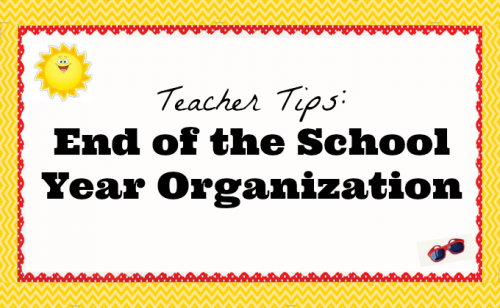 Testing is done and you had another fantastic year of teaching! The school year is coming to an end but there's just one last thing left to do—pack up the classroom! It's important to do as much cleaning, packing, planning, and organizing in the classroom before the school year ends. It will save you a lot of time and stress when school is back in session. Here are some great end of the school year organization and summer tips that will keep you organized and prepared while you relax this summer.
1) Store everything in plastic bins with labels. On the label, write down the contents of the box as well as where the box will go in the classroom. This will save lots of time when unpacking at beginning of the school year.
2) Take photos of your classroom. Taking photos of your classroom after everything is cleaned up and empty will help you organize your decorating ideas for the next school year.  Let's say you found some cute accents, but are having trouble trying to remember what your classroom looks like in order to find the perfect spot for them? Keeping photos of your classroom will serve as a reference and give you a visual of what your next classroom theme will be. If you need any help with the cleaning, you can always seek assistance from renowned professionals such as Modern Maids.
3) Have students keep inventory of supplies in each center or section of the room. (I.e. Group A will keep inventory of how many pairs of scissors and glue sticks you currently have). Once you have this inventory, you will know exactly how many supplies you need for the next school year.
4) Keep a teacher memory book. Add photos of field trips, class photos and more in a memory book. Writing down things like "funniest moments of the year" and "favorite classroom activity" are fun memories to look back on. Having a hard copy book is great keepsake for yourself and the students.
5) Stay involved. Attend teacher conferences and workshops in the summer to keep yourself learning new things. You will be surrounded by like-minded teachers that love teaching just as much as you do.
6) Pin, Pin, Pin. Use Pinterest to pin lessons and projects you'd like to save for the following school year. Create boards and organize them by subject.
7) Have older students or parents help clean up the classroom. Play some music and offer snacks and you'll see just how quickly your classroom will be clean.
8) Out with the old, in with the new. Let go of any items you no longer need and put in a box with a sign that says "free". Put the box in teacher lounge for other teachers to take.  Sometimes getting rid of items is difficult, so offering them to other teachers is a great way to reuse and share. This makes room for all the new supplies and decorations you will need for the new school year.