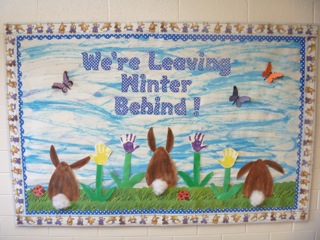 Out with the cold, and in with the Spring! A few students helped me create this "We're Leaving Winter Behind!" Bulletin Board. The background was white bulletin board paper painted with purple and blue streaks. Instead of doing traditional bunny faces, I decided it would be fun to show off their cute little bunny tails using cotton batting. The students helped paint the bunnies with brown paint.  The butterflies and ladybugs were die cut.  I used Blue Polka Dots Scalloped Border Trim and Blue Polka Dot Letters to match the sky.
The flowers were made using students'  handprints. You can use paint to make simple flowers, or try something a little different. Below are instructions to make Tulip and Daisy handprint flowers.
Spring Handprint Flowers
Materials: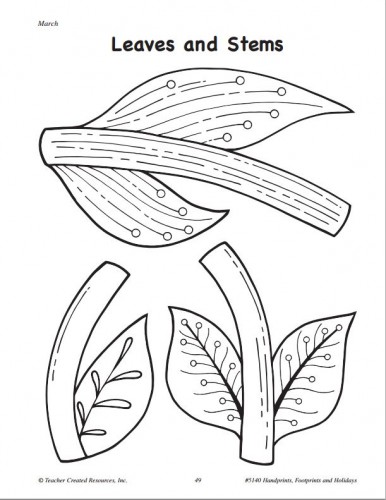 Green, white, and pastel-colored construction paper
Multi-colored paper cupcake liners
Leaves and stems patterns
Pencils
Safety scissors
Glue
Free Leaves and Stems template
Instruction for Tulip Flowers:
On a pastel-colored construction paper, have students place their hands face down with their fingers open and trace their hand.
Have students cut out their hand tracing. Encourage them to round the base of the flower (palm of the hand) to create a tulip-like shape.
Have students color and cut out the leaves and stems template.
Glue the handprint flower to the stem.
Instructions for Daisy Flower
Trace hands with fingers spread apart on white construction paper.
Have students cut out their hand tracing.
Have four or five students combine their handprints (at the palms) and attach them to the back of the cupcake liner to create a flower
Have students color and cut out the leaves and stems template.
Glue the flower handprint flower to the stem.
Additional Display Suggestion
Cover a display area or bulletin board to create a spring outdoor scene.
Use blue paper at the top for the sky. Add white, fluffy clouds and a sun.
Use green paper at the bottom for grass. Snip the edge of the green paper to give the suggestion of individual blades.
Add the "flowers" to create a spring garden. Encourage students to choose where to put their flowers. Ask them to use directional worlds like above, below, and beside.
For more handprint activities and idea see Handprints, Footprints and Holidays!