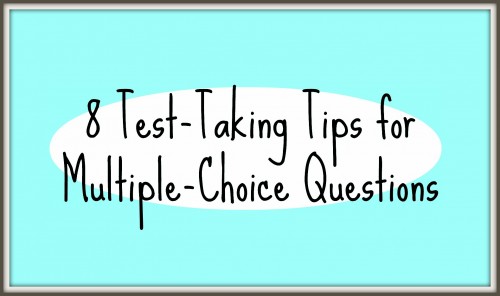 Some multiple-choice questions are straightforward and easy. Some questions, however, stump even the most prepared student. In cases like that, students have to make an educated guess. An educated guess is a guess that uses what students know to help guide their attempt. Students select a particular answer because they've thought about the format of the question, the word choice, the other possible answers, and the language of what's being asked. By making an educated guess, students increase their chance of guessing correctly. Share these test-taking tips with students before their next multiple-choice test:
Read the directions. It's crucial. You may assume you know what is being asked, but sometimes directions can be tricky when you least expect them to be.
Read the questions before you read the passage. Doing this allows you to read the text through a more educated and focused lens. For example, if you know that you will be asked to identify the main idea, you can be on the lookout for that head of time.
Don't skip a question. Instead, try to make an educated guess. That starts with crossing off the ones you definitely know are not the correct answer. For instance, if you have four possible answers (A, B, C, D) and you can cross off two of them immediately, you've doubled your chances of guessing correctly. If you don't cross off any obvious ones, you would only have a 25% chance of guessing right. However, if you cross off two, you now have a 50% chance.
Read carefully for words like always, never, not, except, and every. Words like these are there to make you stumble. They make the question very specific. Sometimes the answers can be right some of the time, but if a word like always or every is in the question, the answer must be right all of the time.
After reading a question, try to come up with the answer first in your head before looking at the possible answers. That way, you will be less likely to bubble or click something you aren't sure about.
In questions with an "All of the above" answer, think of it this way: if you can identify at least two that are correct, then "All of the above" is probably the correct answer.
In questions with a "None of the above" answer, this of it this way: if you can identify at least two that are not correct, then "None of the above" is probably the correct answer.
Don't keep changing your answer. Unless you are sure you made a mistake, usually the first answer you chose is the right one.
Find more tips and practice passages in Nonfiction Reading Comprehension for the Common Core