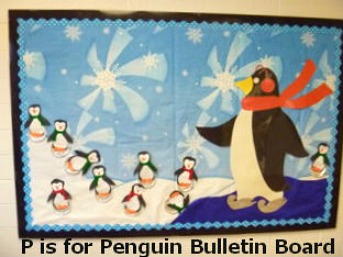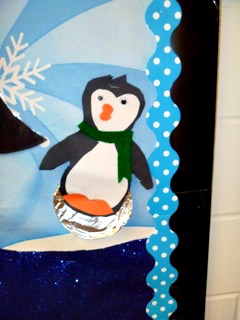 Happy New Year, everyone! Currently, our class is studying the letter "P". To enhance the students' learning, we created a "P is for Penguin" winter-themed bulletin board. I purchased this bulletin board background, but you could make your own snow background. You can use blue holiday paper to make the pond, and plain white paper to create the snow slope.
Make a large penguin wearing skates out of black, white, yellow and beige paper. The students can help make the small penguins. Use felt material to make the penguin scarves. To make the snow saucers, use Styrofoam cup lids covered in aluminum foil. To add a little humor, we had one penguin land in the water!
How do you incorporate learning letters into your classroom?
The following items were used to complete this board:
TCR4670 Aqua Polka Dots Border Trim
TCR4397 Black Border Trim