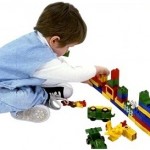 The idea of implementing STEM curricula seems daunting.  It makes sense to keep us competitive globally, but really, how and when are teachers supposed to fit it in!
We are hearing that we need to focus on STEM curricula, and on incorporating 21st century skills.  We know that STEM is an acronym for Science, Technology, Engineering, and Math.  We are learning that the new, education focus is to bring collaborative, hands-on, real-world problem-solving activities back into the classroom.  We need to help our students develop critical thinking skills.
Many teachers are still not clear on how this "new" approach will impact their schools, or when.  The only consistent response I get from the teachers I talk to is that, when rating their comfort level with the four STEM subjects, engineering comes last (every time).
Engineering scares the daylights out of many of us.  It is like being artistic.   We have this idea that you have to be gifted to think like an engineer or create like an artist.  Hah!  Look at preschoolers (and kindergarteners if they are lucky)!
They engineer (design and build) all day long and don't give it a second thought.  "Want to build a road from the block area to the science area?  Okay, let's go!"  It is really not much different from being a city planner or working for Caltrans, our state's agency responsible for highway, bridge, and rail transportation planning, construction, and maintenance.  But to a young learner, building that road will be fun.  Engineering is fun.  It's creative, and it revolves around problem solving.
So how do the students engineer this feat in the midst of a bustling classroom?  They will do it step-by-step through collaboration, strategizing, teamwork, and many other important 21st century skills deemed necessary to succeed in the future.  And the best part is, they won't even know they are honing skills they need to be successful in school and life.  They are engaged.  They are engineers!
So here is how a typical "engineering" activity in a classroom might incorporate 21st century skills.  Imagine a group of children playing in the block and vehicle area of their classroom.  A plan is percolating! Young engineers are gearing up.
| | |
| --- | --- |
| Shared Goal | Building a Road |
| Collaborating | Group idea to build a road in an area larger than the block area takes hold; team of builders (engineers) realized there are some issues |
| Planning | Engineering team gets permission to build the new road; determine where it will go, who will build it; what materials will be used and if vehicles will be included in the building process |
| Negotiating | Engineers announce the plan to other classmates whose areas may be intruded upon and present options—you can build with us and/or use the road when it is done; we can help you move your activity over to another area. Some revamping of the plan may take place and a new collaboration may occur if additional engineers sign on.  Additional problem-solving and addressing others' needs may also come into play. |
| Delegating | Deciding on roles—who clears area, chooses materials, sets up the road, makes signs. Generally for young learners, this delegating happens during the building process as well, adding a bit more collaboration and turn-taking to the effort |
| Physical Activity | Road building—Sections of road are arranged after determining what is needed, and where the road is going. |
| Critical Thinking | What size blocks? How many across? (measurement, addition) |
| Problem Solving | How do we address that table in the middle of the path? Do we go over, under, around? Probably a good deal more negotiating here! |
| Physical Activity | More road building, adjusting, clearing obstacles, completion |
| Self Regulating | Taking turns using the road/sharing.  Do we need more signs? How about toll booths? Will all kinds of vehicles fit? |
| Evaluation/Review | How does it look?  What worked? What didn't? What might we do differently? What should we do next? |
And you thought they were just "playing with blocks"!  Now can you see engineering in your classroom?