Hey all!  It's Staci from Let's Teach Something Blog back again. This time, I'm here to show you how I help my students anchor their learning using interactive notebooks and a trivia assessment game.
Interactive Notebooks
Let me give you a picture of what my teaching looks like. My 2nd graders have 2 interactive notebooks: one math, one reading.  When I introduce a new skill, we always put it in our notebook to anchor our learning.  The students are encouraged to look back in their interactive notebooks if they are unsure of what a skill should look like.  It's an amazing learning tool that I've just started using this year, and I love, love, love it.  I've been creating pages as I go, so it's a work in progress!
Trivia Assessment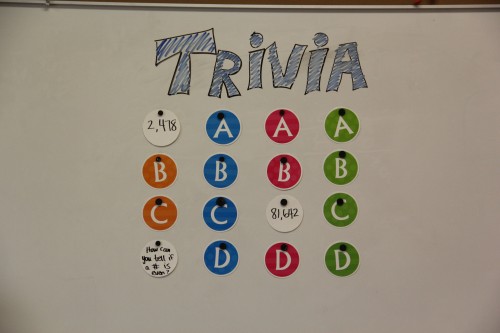 We've become masters at creating reference material for ourselves in our notebooks…and lots of it!  I needed a formative assessment to see how my students understand concepts of these different math and reading skills.  A test of this magnitude would be very time consuming!  So, I decided we were just going to play a good 'ol fashioned Jeopardy-style trivia game.
To create the trivia game, I used letters from Sassy Circle Letters Pack, wrote some questions on the backs of them, and hung them on my whiteboard, and the game was ready to go.  I also have some student buzzers that help identify which team rang in first.  The students love the game, and ask for it often!
Here's a twist to the trivia game:  I sometimes put blank letters at centers before and asked the students to come up with a question and then at the end of the week, we put them altogether for a Jeopardy trivia game mash-up.  This alternative really gets the kids invested in creating QUALITY questions!  The rule:  if it's your own question, you are not allowed to answer it!

Need more teaching tips? Here are 5 Best Practices for Teaching Math and see some great center ideas here.