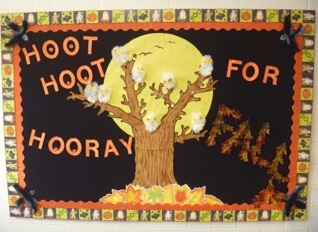 Need some ideas for a Fall bulletin board?  Take a look.  I sent my pre-k teacher friend Brenda an assortment of decorative items and within 2 weeks, I had a treasure trove of ideas to share with you.  She just can't stop—does she sleep?  Her classroom is amazing and the halls around it are, too!  And the best part is, she incorporates the students' work into her boards.  Each one is a collaborative project.  Here is the first of many!
Don't you just love those adorable owls?  And so simple for little ones to make!  She lets the kids pull off a handful of fiberfill or quilt batting for the owl body.  Then she put a dab of glue where the eyes, nose and talons go and they glue it on.  The eyes are circles with a black hole punch dot.  The nose is a small triangle and the talons are almost crescent shaped.  Then, they read the book, Owl Babies by Martin Waddell, which is a great book if you have never read it.  Oh, and she made the word FALL using silk leaves!  So creative.
Along with the fiberfil and silk flowers, Brenda completed the project using our Halloween Border Trim and our Seasonal Tree Bulletin Board Display.