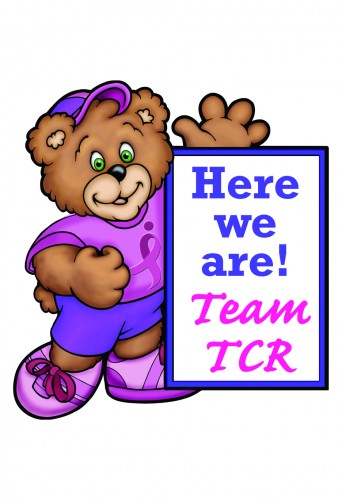 It was a sea of hot pink, quite wonderful really that sea of pink.  Just looking at it brought a surge of joy to my heart.  For every woman wearing a hot pink tee shirt was a breast cancer survivor.  There were over a 1,000 survivors on stage for the Survivor's Tribute at the Susan G. Komen Race for the Cure on September 26 this year.  And so many of my friends and colleagues were among those swimming in that sea.
I was the captain of Team TCR as we proudly participated in the Race for the Cure held in Newport Beach, California.  Over 30 team members proudly walked among 24,000 plus participants.  Identifying us was our mascot T.C. Bear on a sign that was proudly held aloft for the whole route.  Almost everyone was sporting something pink—shirts, boas, hats, and tiaras.
Being part of the race is always inspiring.  So often we want to do something to help others, but we don't know how too.  As first time participant James Grace commented,  "I've said in the past, I don't have time, I'm too busy, but this year I made the time, I did it.  I didn't stand on the sidelines.  I made a difference."
And making a difference is what Komen is all about.  The organization funds programs that help women fight breast cancer.  Early detection is the best defense against breast cancer and just $125 can fund a mammogram for a woman in need.  TCR has committed to that need.  This year we have raised over $10,000 for the cause.  If you'd like to make a contribution go to the Team Teacher Created Resources- OC Komen page and make a general donation.  Like James, you'll be making a difference.
Visit our Facebook page to see pictures from the event.