The Chevron Classroom Pinterest Giveaway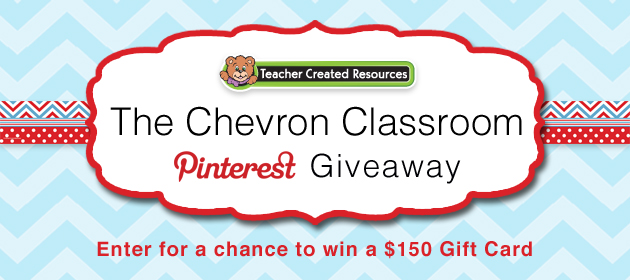 To celebrate the launch of the new Chevron Collection, we are kicking off the Chevron Classroom Pinterest Giveaway. Enter the Giveaway for a chance to win a $150 Teacher Created Resources Gift Card! Start pinning your favorite Chevron decorative items and create your own "Chevron Classroom Board" on Pinterest. We hope your board serves as a fun, bold inspiration for your next classroom theme.
The Rules
Follow Teacher Created Resources on Pinterest.
Create a "Chevron Classroom" Pinterest Board.
Pin photos of Chevron classroom ideas and decorations. Visit the Chevron Collection here or view our Chevron Classroom Giveaway Board for stylish classroom ideas.
In the description, make sure to include the following hashtags #TeacherCreatedResources and #ChevronClassroom.
Complete your entry form on the Rafflecopter widget below. Be sure to include the url of your Pinterest Board and email address.
Giveaway ends 12:00 pm on February 17, 2014 PST
The Prize
One lucky winner will win a $150 Teacher Created Resources Gift Card.
One winner will be selected at random. Winner will be announced and notified on February 18, 2014
Enter Now!
a Rafflecopter giveaway
About the Chevron Collection
Start the new year right with the hottest classroom trend—Chevron! The new Chevron Collection comes in a palate of bright colors—aqua, lime green and hot pink are a few of our favorites. Set the tone for a modern and fun classroom by stocking up on stylish accents, incentive charts, computer paper, border trim and more.
See the entire Chevron Collection here
Void Where Prohibited
No Purchase Necessary
Official Rules